MKV to MP4
Step 1: Select the MKV video you want to convert and upload it here.
Step 2: Wait until the conversion from MKV to MP4 has finished. The process starts automatically.
Step 3: Download the freshly created MP4 video.

Expert Settings: Customize options

Lightning-Fast MKV to MP4 Converter
This online video converter allows you to convert any MKV video into the MP4 format; In most cases, the conversion is lightning-fast after the file upload. Everything happens without frustrating waiting time and any software download.

Lossless MKV Video Conversion
This converter tries to convert your MKV video into the MP4 format in a loss-less fashion wherever possible. In case we cannot achieve that goal we will choose an encoding that is close to the original video quality. Video to video conversion with excellent results has never been easier than with our free web app.

100% Free and Unlimited
This application is a completely free online tool with no hidden costs or obligations. If you like this tool also try out our other video and audio converters.

Supports large Files (> 1 GB)
To provide you with the best possible user experience this converter also accepts large videos with file sizes larger than 1 GB. In general, we are trying not to limit the video file size within the possibilities of online file conversion.

Esay to use
This service is part of Converter App, a unique collection of file, video, and image conversion services. Like our other tools, we try to provide an easy-to-use and simple user interface without any distractions and unnecessary features.

Privacy
Your privacy is important for us. All files are removed from our servers immediately after the document conversation is complete, and no one will ever look at your documents either.
MKV to MP4 Online: Further Instructions
In most cases, the three steps above are enough for getting a great result with our MKV to MP4 online converter. If you want a specific video or audio codec for your MP4 output simply click on "Expert Settings" and choose the desired codec there. The available codecs are:
Choosing a codec by hand is only recommended if your target device cannot play the video created by our converter. Otherwise, the default settings give the best result. If you do not know which codecs to choose take: AAC/H.264.
Alternative Method: MKV to MP4 with VLC
Usually, an online converter is the best choice for your video conversion; If you want to do the conversion on your local computer, we also have an MKV to MP4 converter download recommendation for you: The VLC Media Player.
VLC is a free, open-source video player that can convert videos between different formats. The tool is available for MAC, Linux, and Windows; To convert MKV to MP4, VLC includes its own video converter. We assume here that you already have a VLC installation on your system: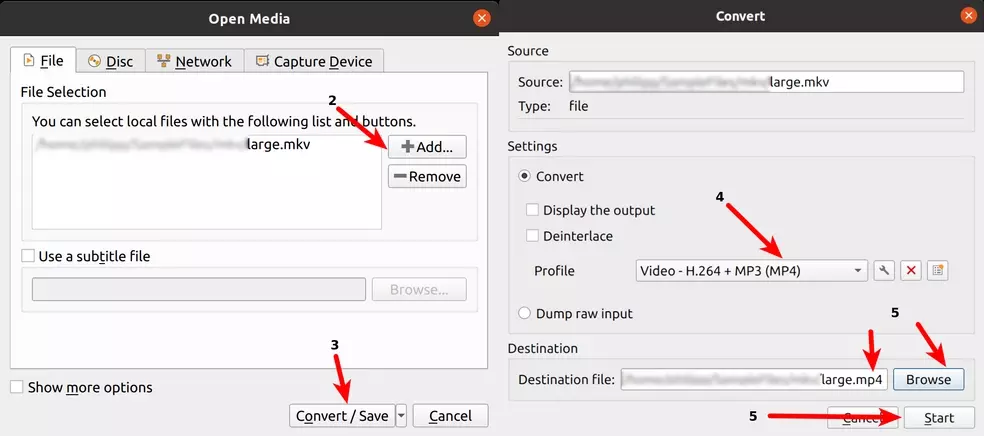 1. Open VLC and click: Media and then Convert/Save in the drop-down menu.
2. In the dialogue click "Add" to select the MKV video you want to convert. You can add one or more videos.
3. Next, click the "Convert/Save" button.
4. Now select the profile "Video - H.264 + MP3 (MP3)" in the settings field.
5. After selecting the profile click browse to define an output file name and then "Start".
Video Tutorial
Our video tutorial above explains both approaches, the usage of our online video converter and VLC for converting MKV to MP4. The video is in English, and the explanations about VLC start at 1:20.
MKV vs. MP4
Both, MKV and MP4 are container formats for video and audio data and subtitles. The following table compares the most important features of both formats.
The MKV Format

Name
Matroska video
Extension
.mkv
MIME Type(s)
video/x-matroska
Description
An MKV file is a video file saved in the Matroska multimedia container format. It supports several types of video and video codecs and may include SRT, SSA, USF (Universal Subtitle Format), or VobSub subtitles. MKV files are typically used for storing short video clips, TV shows, and movies.
Tools

MKV Cutter
VLC
GiliSoft Video Editor
The MP4 Format

Name
MPEG-4 Part 14
Extension
.mp4
MIME Type(s)
video/mp4
Description
The MP4 file extension stands for the MPEG-4 video file format. MP4 is a very common video file format used for downloading and streaming videos across the internet.
Tools

Windows Media Player
VLC
MP4Tools