ePub to Mobi
Step 1: Select an EPUB file from your PC or Mobile Device or by dragging and dropping it on the uploader at the right.
Step 2: Wait a moment. The conversion from EPUB to Mobi will start instantly and finish shortly.
Step 3: Download the converted MOBI ebook. As soon as the ebook gets converted, you can download your MOBI file.
EPUB to MOBI Online Free
EPUB has become an essential format to publish books and docs in a digital format during the last years. Therefore, a considerable amount of EPUB ebooks are available in this format. In case you quickly need to convert them into the MOBI format you found the right place. Our converter allows you to do the conversion from EPUB to MOBI online free.
Converting EPUB to MOBI for Kindle
Since MOBI is a native file format of Amazon Kindle ebook readers, converting an EPUB ebook to MOBI is the easiest and fastest way to read it with your Kindle. The layout will stay the same in most cases. Our converter will get the job done lightning fast, preserving the quality of the initial EPUB ebook. We believe that our tool is the best EPUB to MOBI converter available for free.
Alternatively: Convert EPUB to MOBI with Calibre
If you do not want to use an online converter for whatever reason there is an alternative free approach to do the conversion: The open-source program Calibre.
It comes along with an intrinsic ebook converter you can use for converting EPUB to MOBI. Once you installed the program, you can do the conversion in three simple steps.
Step 1: Import the Ebook you want to convert by clicking Add books.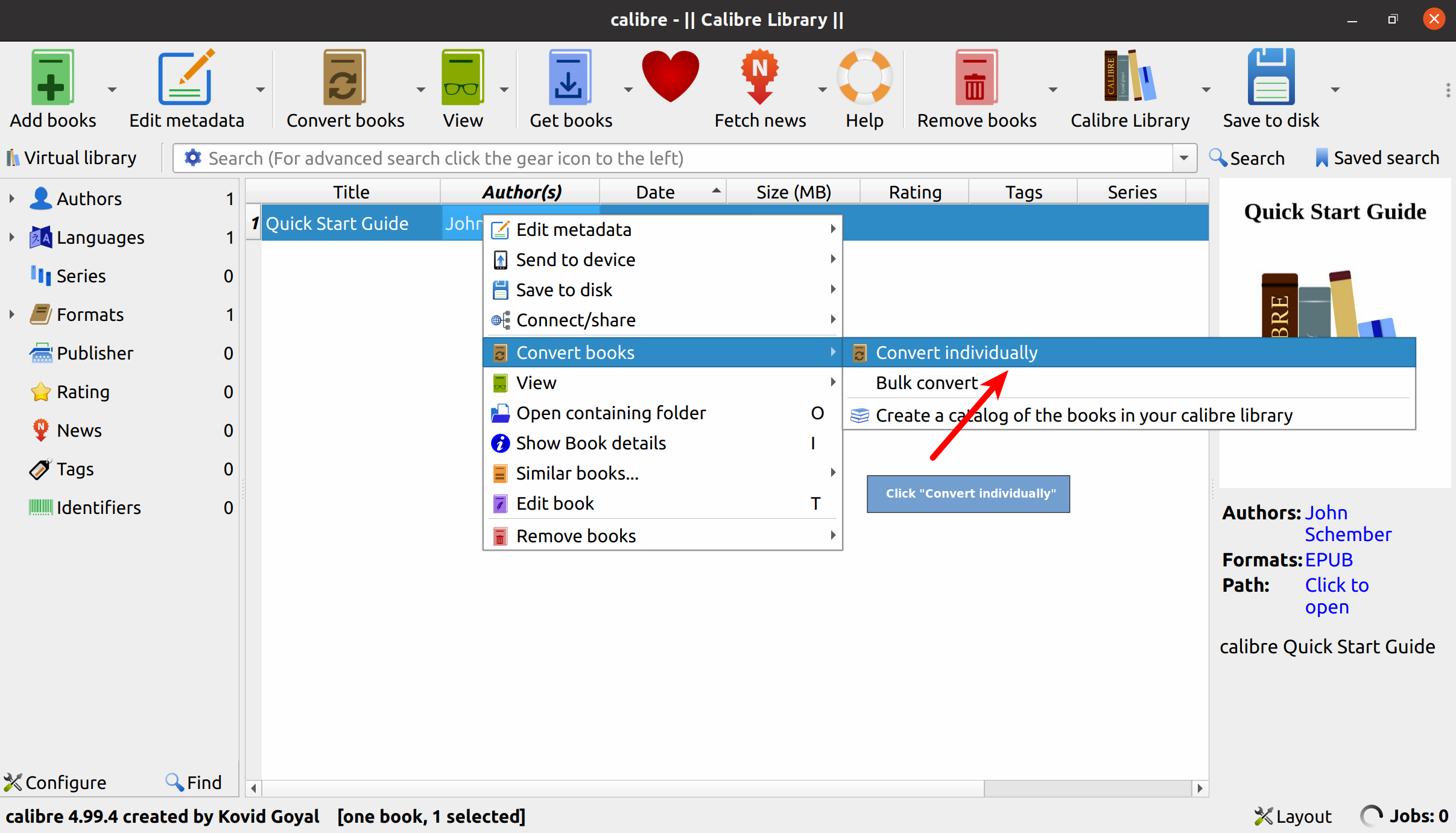 Step 2: Right-click on the book and select "Convert Books" -> Convert Books individually in the drop-down menu.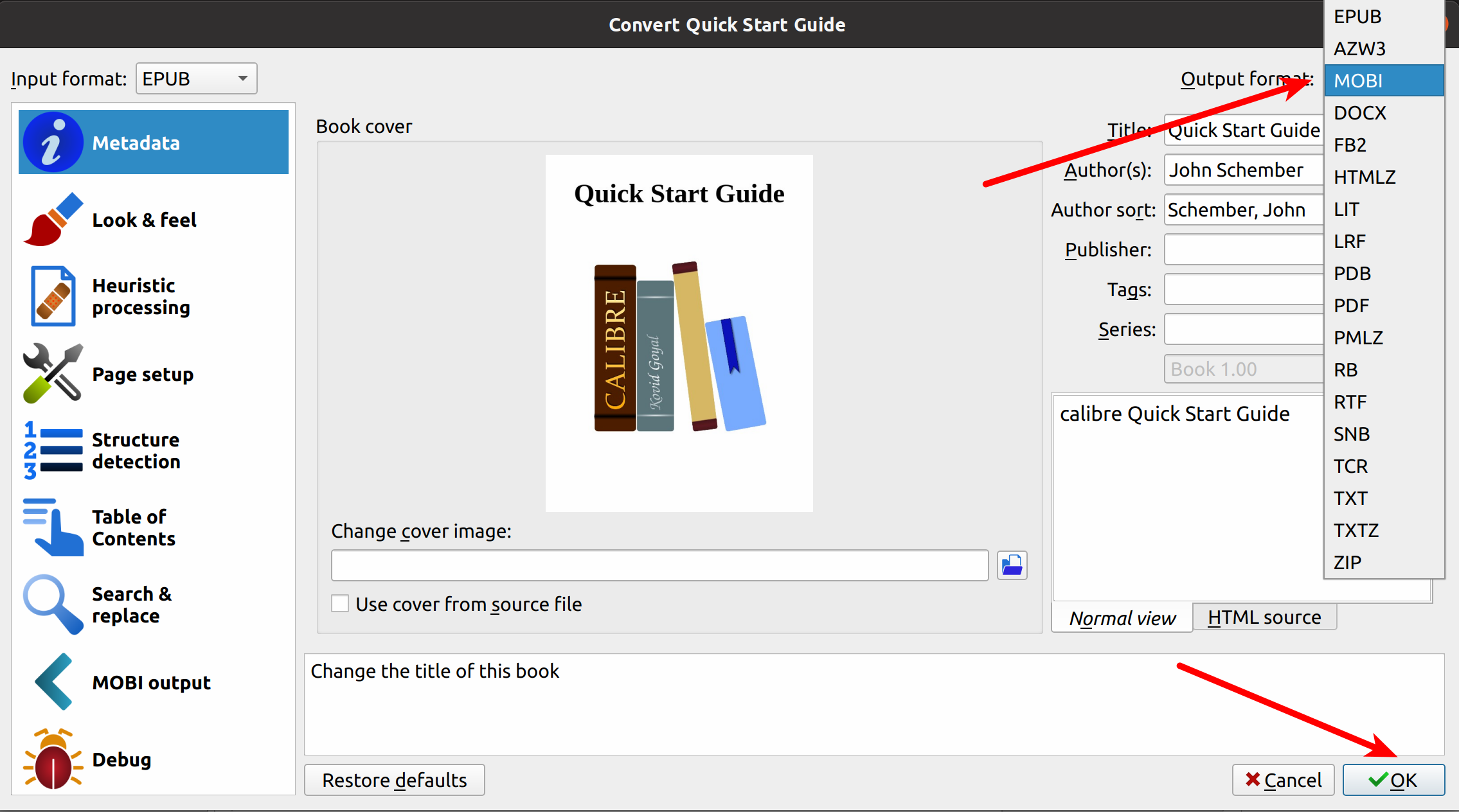 Step3: Select the output format in the upper-left corner of the dialogue that shows up and click "Convert".
This will convert the ebook and also create a new file on your file system. However, there will be no new entry in the library. To access your new MOBI ebook simply right-click on the original entry again and select "Open containing folder". This will bring you directly to the converted ebook.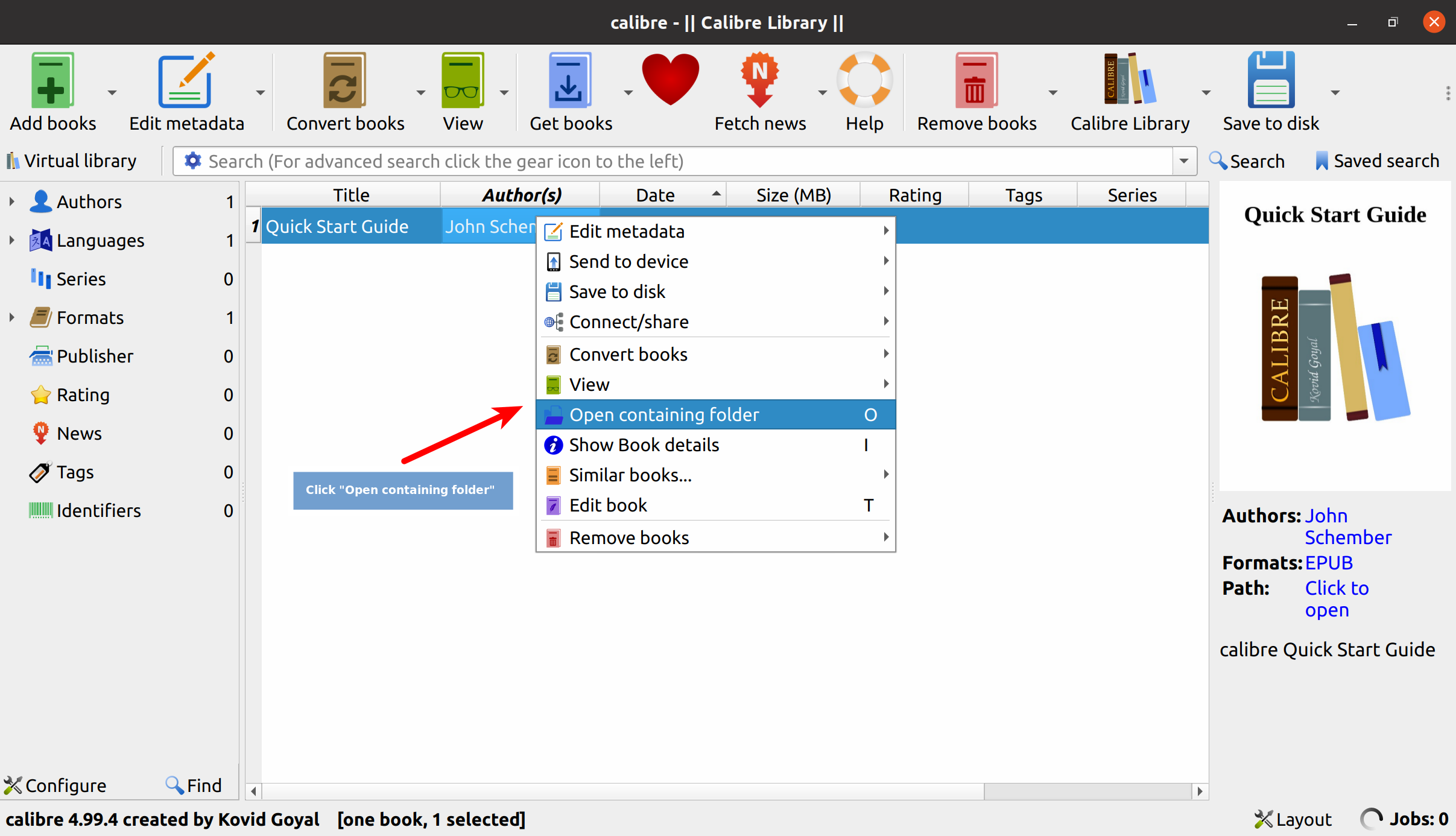 The ebook-convert command line tool
If you are a Linux user, Calibre uses another tool for converting EPUB to MOBI. It will be installed automatically together with Calibre. To use it, simply open a terminal and type:
ebook-convert input.epub output.mobi
This command will convert the file input.epub into a MOBI ebook with the name output.mobi.
EPUB and MOBI in Comparison:
The following two tables give you a detailed overview of the properties and technical specifications of each of the two formats:
The EPUB Format

Name
electronic publication
Extension
.epub
MIME Type(s)
application/epub+zip
Description
EPUB was developed by the International Digital Publishing Forum (IDPF) and launched in 2007. It is a readable textual container format for electronic publications with refluence text in hyper-marked-up document structure with pertained images for illustrations. Since all text is reflowable, ebooks using this format render well independently of the devices' display size. EPUB also enables the publishers to control document presentation through CSS style-sheets or any other display style. EPUB, Version 3 also offers audio-embedding.
Tools

Pocketbook Reader
Calibre
The MOBI Format

Name
Mobipocket
Extension
.mobi
MIME Type(s)
application/x-mobipocket-ebook
Description
The Mobipocket file format was launched originally along with an extension .prc but later .mobi) is a patented, partially documented binary format for ebooks. MOBI files support reflowable text and thus are readable on digital devices of different sizes, including handset devices. Amazon bought the rights for the MOBI format in 2005. With the launch of the Kindle in 2007, Amazon adapted to use the format, with the .mobi extension, for use in its digital publishing services and advanced tools to support its use in publishing workflows. Many other publishers prefer to use the MOBI format to use for readable books on digital gadgets.
Tools

Amazon Kindle
Mobipocket Reader